Enlightened Equipment offers fabrics in a variety of weights and colors. Our fabrics have been customized for us to give the best possible blend of functionality and feel.
Each fabric type has its benefits and drawbacks, which we'll outline below. Please note that fabric colors may appear different from images shown due to rendering and monitor differences.

For all of our quilts and apparel, we offer ultralight nylon fabrics in three weights: 20D, 10D and 7D. D refers to denier, or the weight of 9000 meters of a single strand of fiber, measured in grams.
The higher the denier, the higher the fiber weight used to make the fabric. Usually this is used as a reference to how thick or durable a fabric might be. For example, 20D is a heavier, more durable material than 10D.
You can see the differences in the denier levels below.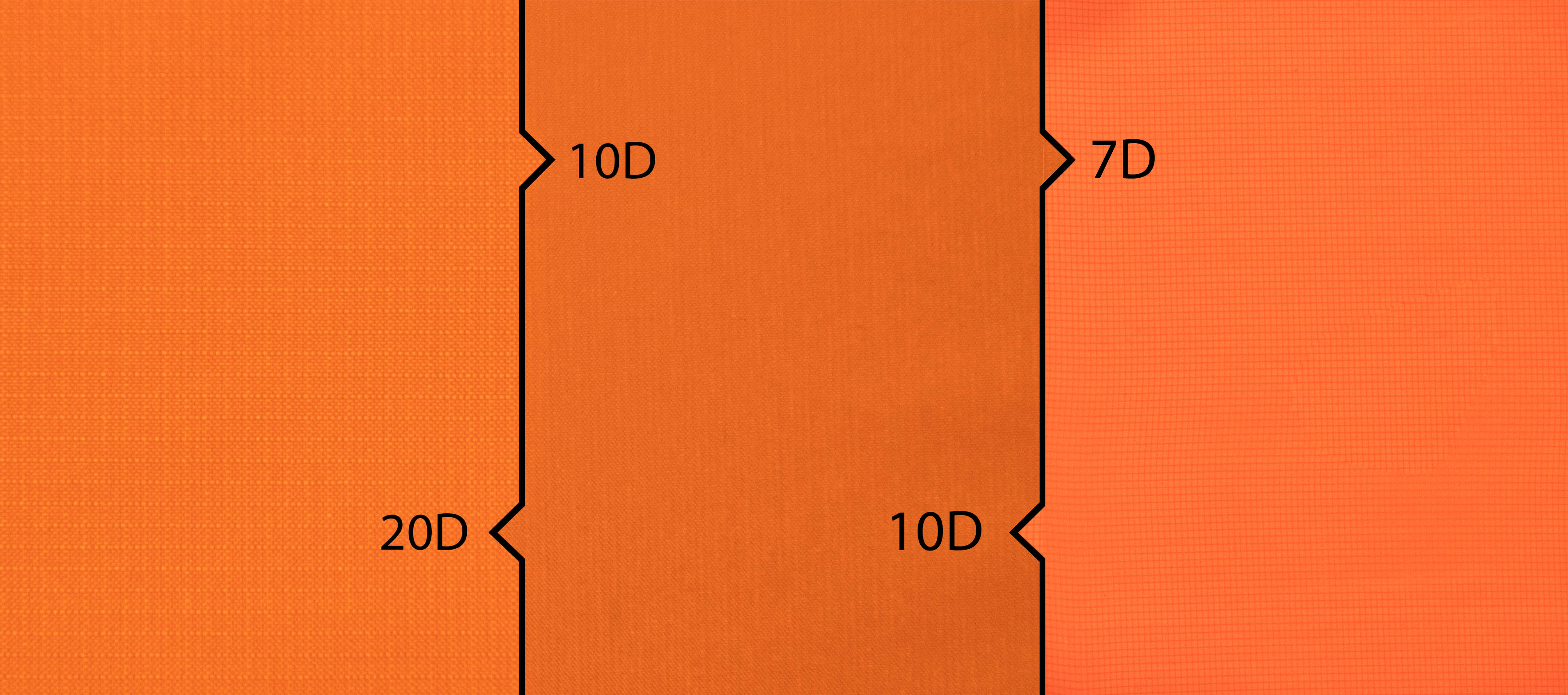 By the numbers
With an amazing balance of durability, breathability, and weight, 10D has become our go-to nylon for many of the products we build. This option is comfortable against skin, but also makes a great exterior fabric. 10D is a great choice for a variety of applications.
This micro ripstop nylon offers a higher durability and water resistance than the other fabric options, but with a bit of a weight penalty. It's also less breathable than the lighter options. Keep in mind that durability should be understood in terms of ultralight materials. It's a heavier material, but you will still have to take care of your equipment. Our 20D material is a good choice for high abrasion uses if you understand the sacrifice in weight and breathability.
7D nylon is our lightest option yet. For those wanting to cut every gram possible we offer 7D fabric that can be used anywhere our 10D is an option. Benefits include increased breathability and decreased weight. However, this material is slightly less downproof and less durable. Through our own testing process, we've seen slight down loss, but no decrease in performance. We've been very surprised at how durable this fabric actually is. That being said, please take extra caution with this option and understand you are selecting the lightest available.
Windproofness
Cubic Feet per Minute, or CFM, is a fabric windproofness measurement. For example, a typical rain jacket would be about 0.5cfm, Windpro fleece would be 60cfm, and a typical fleece would be around 200cfm.
Our 20D is around 1cfm, which is considered nearly windproof. 10D is around 10cfm, so it's highly wind-resistant. 7D is around 35cfm.
Water resistance
All three fabrics we offer have a Durable Water Repellent (DWR) treatment. This is not the same as waterproof, but it helps the fabric shed water and dry faster when wet.
Other fabrics
We use 1.15oz per yard² waterproof 15D silnylon for our Recon bivy, Snow Wrap, Rain Wrap, Minion and stuff sacks.