What's the difference between 850 and 950 fill power down?
Fill power is a way of measuring how much space a given down type can fill. For example, 1 ounce of 850fp down will fill 850 cubic inches, whereas 1 ounce of 950fp can fill 950 cubic inches. Since insulation works by trapping microscopic air pockets, a higher fill power can trap more air pockets per ounce. For use in a sleep system, this means that a higher fill power will provide the same insulation using fewer ounces of down.
A 20°F rating is always 20°F, but a higher fill power quilt will be lighter. Enlightened Equipment uses Grey Duck Down (GDD) for our 850fp down, and Grey Goose Down (GGD) for our 950fp down. Other than the weight, there is no performance difference between types. You can check out more information about our down here.
What is the benefit of Climashield APEX synthetic insulation?
Synthetic insulation has some tradeoffs with down that may or may not make it more suitable for you. While it's less compressible and somewhat heavier when used for larger items like quilts, its excellent all-weather performance, faster drying, easier cleaning, and overall lower cost can make it a great choice for warm and humid conditions. Climashield APEX insulation is much better than down for items that will be exposed to high amounts of sweat and body oils, so it's a smarter choice for insulated socks, balaclavas, and mittens.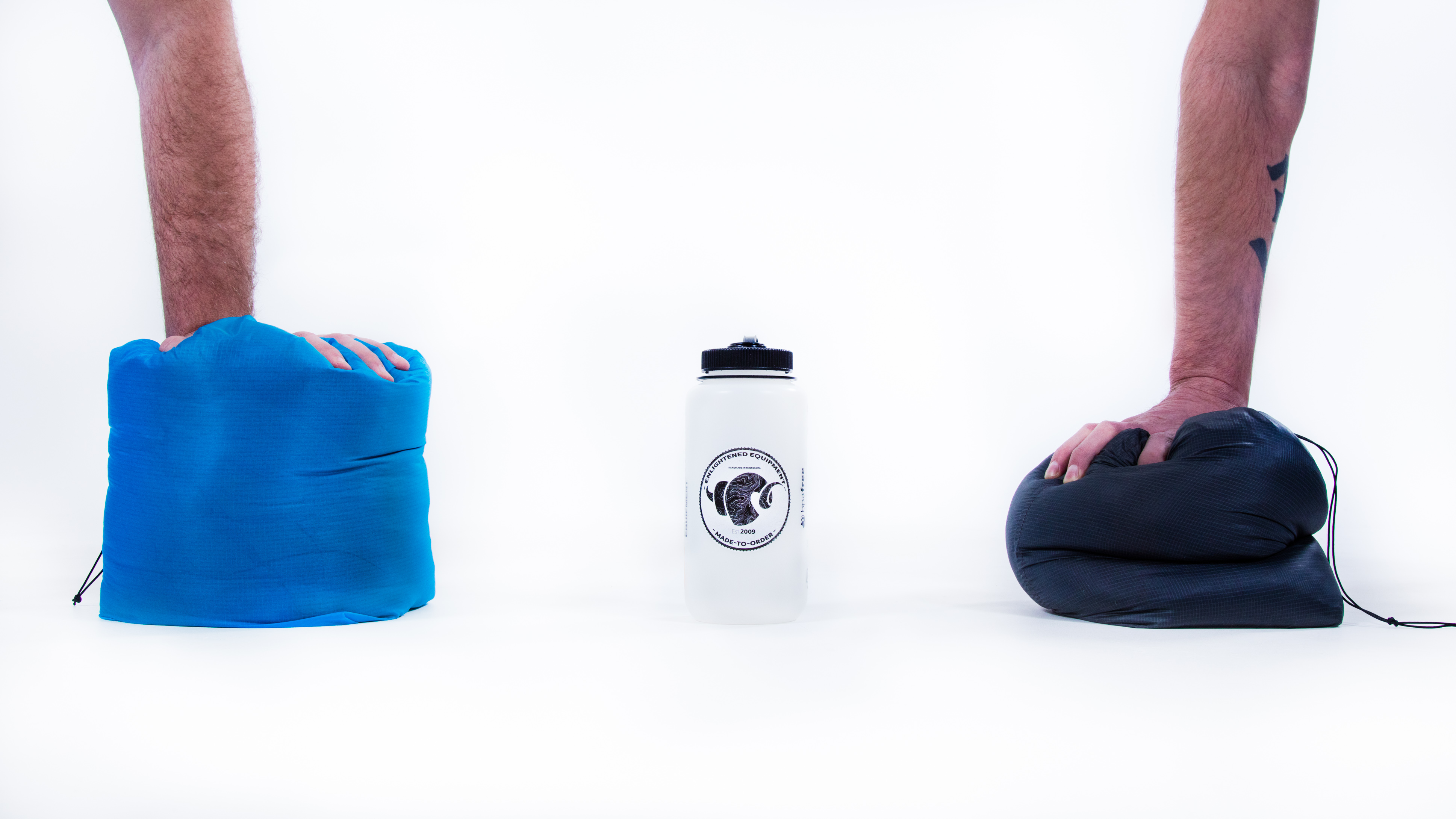 30° Regular/Regular Enigma APEX (Blue) vs. 30° regular/regular Enigma (black)
What's the difference between the 7D, 10D, and 20D fabrics?
All our fabrics are high-quality ultralight nylon with Durable Water Repellent (DWR) treatment for an overall great feel and low weight. The 10D fabric favors minimal weight and maximum breathability as its highest priorities, whereas the 20D offers somewhat higher durability, wind resistance, and water resistance at the cost of a bit more weight.
In most cases, with careful use, the 10D fabric will be your best option, though if you tend to be somewhat more exposed to the elements in your camping style, the 20D will offer some added protection on the outside of your quilt. Both 10D and 20D fabric options should be treated with care.
7D is our lightest option, with extreme breathability and packability but slightly reduced durability compared to the other options. Find out more about our fabrics here.
Why can't I use 20D fabric on both the inside and outside of my quilt?
While it's tougher and more water resistant than our standard 10D fabric options, our 20D fabric also doesn't breathe as well. Using it inside and outside the quilt can make your sleeping experience more clammy and makes packing the quilt more frustrating, since air can't escape quickly enough to allow compression.
What are baffles and why do they matter?
Baffles are meshed walls used on the interior of quilts and down garments that serve to keep the down from shifting and falling. While some other companies use simpler "sewn-through" construction, our use of baffles gives the down enough room to loft up and trap the microscopic air pockets, allowing it to provide full insulation. Baffles also help prevent cold spots from forming where the inner and outer fabric are sewn together. Read more information about the design features of our products, or find out more about insulation and loft.
What's special about EE's U-shaped continuous baffles?
Our unique U-shaped baffle design combines the strengths of both horizontal and vertical baffles that are typically found in other quilts and sleeping bags. The vertical baffles along the length of the quilt prevent down falling to the sides (a problem especially for side sleepers). The horizontal baffles at the base of the quilt help keep the footbox fully lofted and limit the amount of down that can shift away from your feet.
What is the 3 Layer Visp rain jacket fabric?
Our ultralight Visp rain jacket is constructed of a customized ultralight three layer material. It features a ripstop 7D nylon outer layer that is complete with a durable water repellant finish and is available in five different colors. Next is a waterproof and breathable membrane that keeps the water from coming through the jacket but also allows air to pass through to keep you nice and cool so you can stay comfortable and dry even when active. The third layer is a soft tricot lining that makes this jacket soft and comfortable against your skin, making it wear more like a light jacket than a traditional rain jacket. This three layer fabric is so light and thin you will barely know it is there while it keeps you dry in rainy conditions.