We offer two types of insulation: down and synthetic.
Down
Down is one of the lightest, most compressible, and most versatile insulations available. We use DownTek ZeroPFC™ down that is certified by Responsible Down Standard. Third-party audits verify that none of the down in the supply chain is acquired using live plucking or force-feeding.
DownTek is goose or duck down treated with a water-repellent coating that helps it resist moisture and dry quickly. It is not waterproof, so normal precautions -- like pack liners, dry bags, and stuff sacks -- should be taken to keep your gear dry. (But you can read about one cold-water test here.) Our fabrics also feature a durable water repellent (DWR) finish, which helps the fabric repel water while maintaining breathability.
Down is measured using a system called fill power. Fill power (fp) is a way of measuring how much space a given down type can fill. For example, 1 ounce of 850fp down will loft up to fill 850 cubic inches, and 1 ounce of 950fp can fill 950 cubic inches. (Picture is for illustrative purposes only.)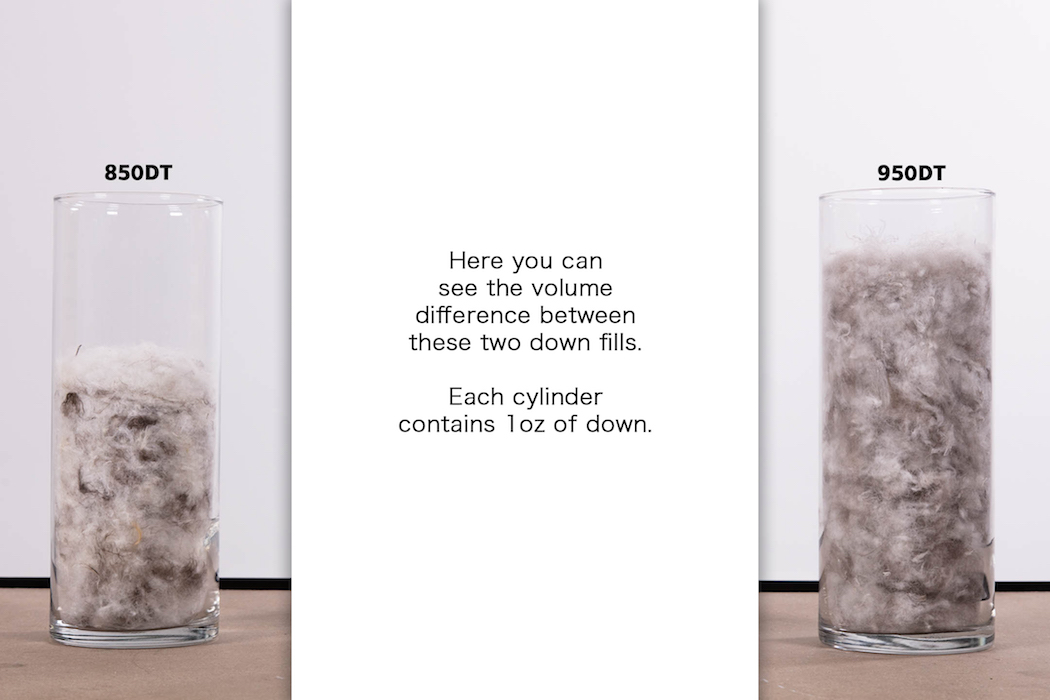 Since insulation works by trapping microscopic air pockets, a higher fill power can trap more air pockets per ounce. For use in a sleep system, this means that a higher fill power will provide the same insulation using fewer ounces of down. A 20°F rating is always 20°F, but a higher fill power quilt will be lighter. Enlightened Equipment uses Grey Duck Down (GDD) for our 850fp down, and Grey Goose Down (GGD) for our 950fp down. 
Loft is the measurement of how thick your quilt or sleeping bag is at the top of the baffle. You can figure out the loft of your down item by laying it flat and measuring how thick (or tall) your quilt or bag is. We use the following loft measurements for our temperature ratings:
50° - 1"
40° - 1 1/2"
30° - 2"
20° - 2 1/2"
10° - 3"
0° - 3 1/2"
One of down's advantages is its packability, as shown in the photo below.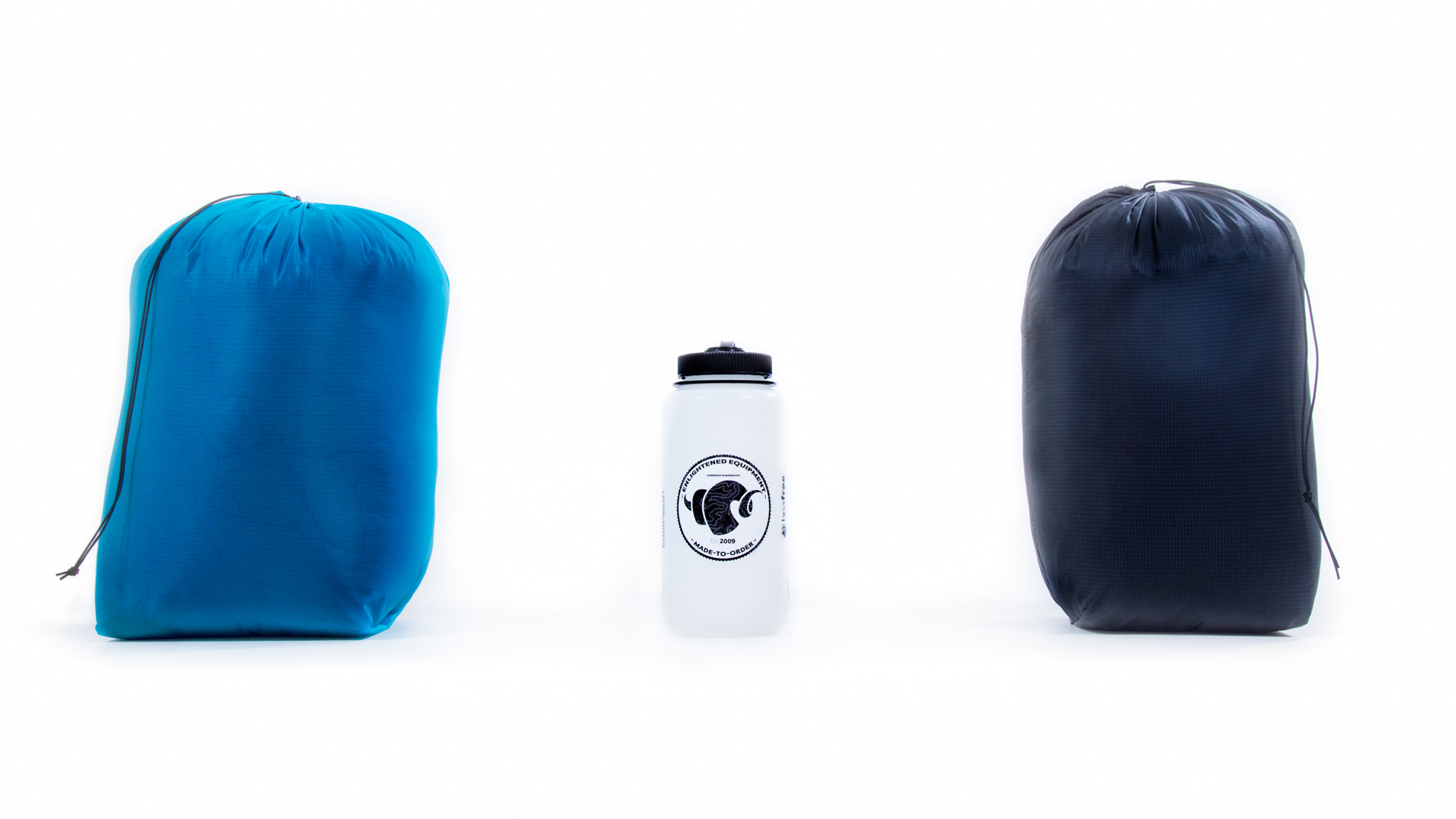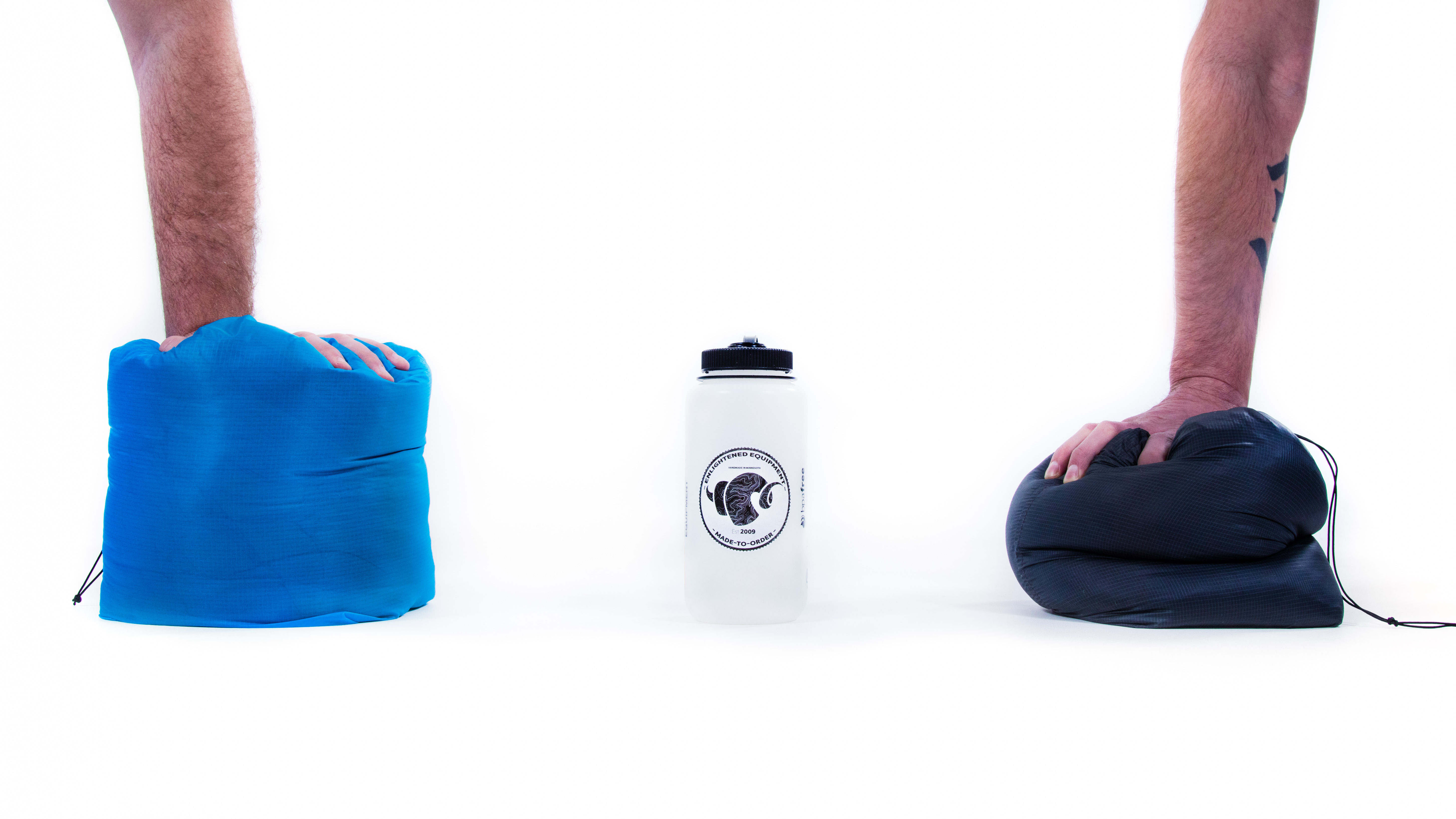 30° Regular/Regular Enigma APEX (Blue) vs. 30° regular/regular down-insulated Enigma (black)
Synthetic
We use Climashield APEX as our synthetic insulation. APEX is one of the lightest and most versatile synthetic insulations on the market today. Synthetic insulation is less compressible and heavier than down, but it performs better in warm and humid conditions because it doesn't succumb to migration or clumping like down. Our APEX options are also faster drying, easier to clean, and more affordable. Climashield APEX quilts don't have baffles, since the insulation is a continuous sheet. We also don't add any sewn-through seams, to prevent cold spots.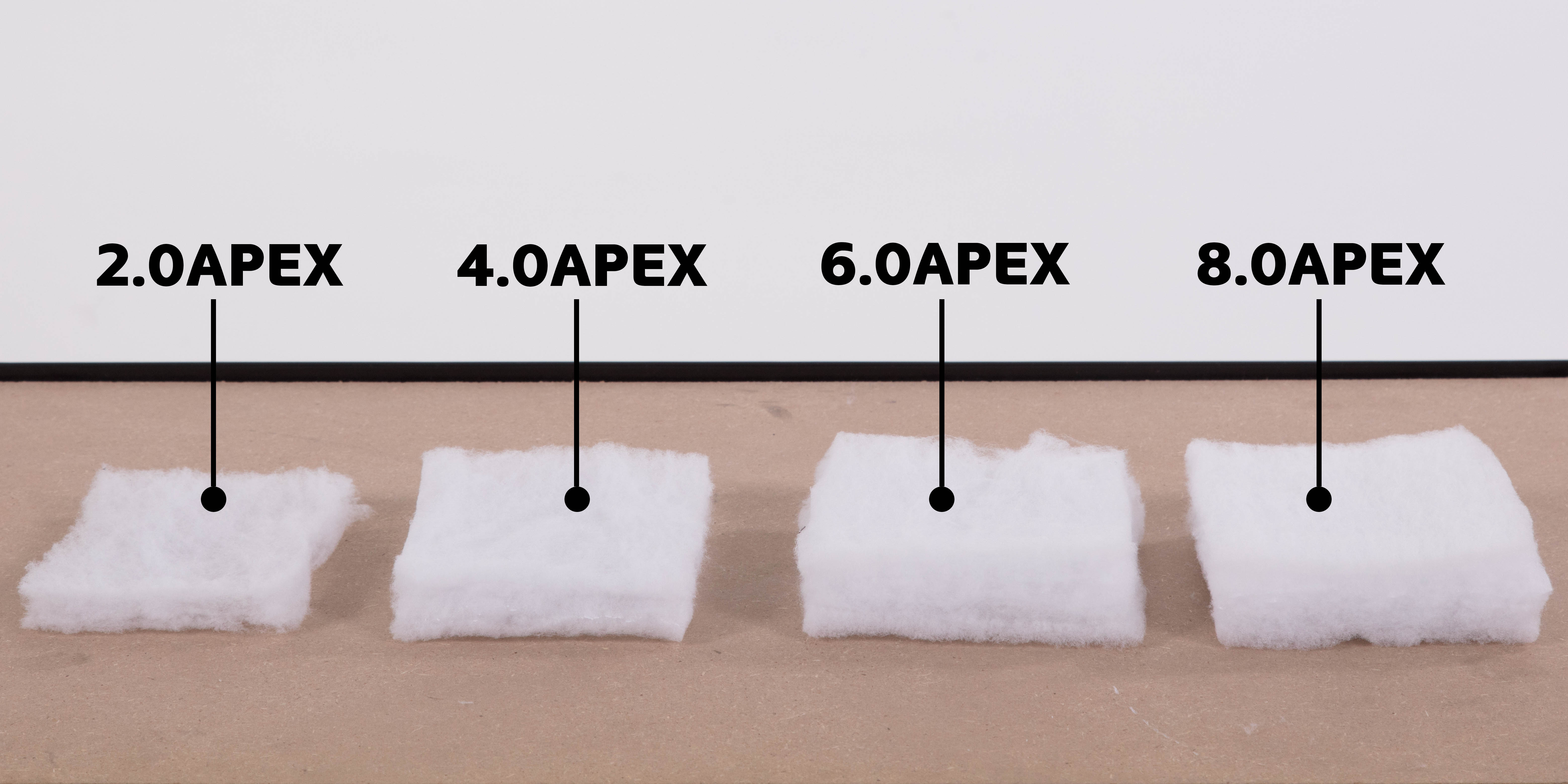 We use the following APEX weights of insulation per temperature rating. Approximate loft heights are also listed to give you an idea.
50°F - 2.0 oz/yd², approx. .75 inch height
40°F - 4.0 oz/yd², approx. 1 inch height
30°F - 6.0 oz/yd², approx 1.25 inch height
20°F - 8.0 oz/yd², approx. 1.5 inch height
Synthetic material weights may vary +/- 10% due to production variances.